---
---
---
---
---
---
Wrendale Harebells Flower Jug
This beautiful flower jug made from carbon steel will make the perfect addition to any home. This flower jug features the very popular 'Harebells' design with detailing along the handle. The diameter of the flower jug measures 17cm, and the height of the flower jug is 25cm. As with all products, prolonged exposure to direct sunlight may affect the colouring. Please bear this in mind when positioning...
Wrendale Poppy Field Large Mug
With a blue background, and in Hannah's 'Poppy Field' design, this fine bone china mug from Royal Worcester is a perfect gift or treat for yourself. This mug holds 14 fl oz is dishwasher and microwave safe; durable and beautiful.
---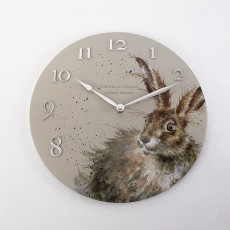 Wrendale Hare Clock
Make sure you keep track of time in your home with this elegantly designed Hare wall clock by Wrendale Designs. The clock features a Hare with attentive eyes, big pointy ears and a soft coat of brown fur, illustrated in the expressive style of artist Hannah Dale and designed in Lincolnshire, England. Made from hard resin with a contemporary soft matt grey finish for the background, this is a unique...