---
Stellar Knife 33cm Magnectic Knife Holder
Made of Beech Wood, this magnetic knife holder is perfect for saving precious counter top space. Dimensions 33.50cm Wide x 5cm Height x 2.5cm Depth Knives not included
---
Denby Carving Board With Carving Knife & Fork Set
From Denby, the Carving Knife, Fork and Board Set comprises of a responsibly sourced Acacia wood board with groove and corner well to collect & pour juices paired with High Carbon Stainless Steel Carving Knife & Fork for durability & strength.
Judge Sabatier IV 7Pc Knife Block Set
Set contains :- 9cm/3.5" Paring Knife, 13cm/5" Steak Knife, 14cm/5.5" Boning Knife, 20cm8" Carving Knife, 20cm/8" Bread Knife, 15cm/6" Cook's Knife, 20cm/8" Cook's Knife
---
Judge Scissors 3 Piece Block Set
6cm Scissors 8cm Scissors 10cm Scissors Black storage Block Judge soft grip kitchen scissors are comfortable for use throughout the kitchen and home. Long lasting cutting edges manufactured from stainless steel and honed to perfect sharpness. Ergonomically shaped soft grip handles and dishwasher safe.
---
---
---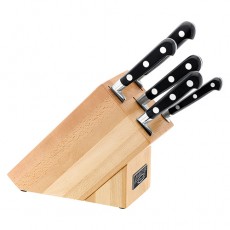 Stellar Sabatier 5pc Knife Block Set
The Stellar Sabatier combination of Carbon-Chrome-Molybdenum and Vanadium Steel offers the advantages of easy sharpening with extended edge life and resistance to rust and stains. Each blade is fully forged from a single billet of top grade steel - not strip steel. Blades have a full length 'tang' which extends into the handle. The craftsman-ground edges will retain their sharpness through expert hardening...
Judge Sabatier Knife Block 5pc
The Knife Block has a knife designed to cater to your every kitchen need. Attractive pine block filled with black handle finished knives will present well in any kitchen. Designed to last a life time! The Block contains a 9cm Paring Knife, 11cm Utility Knife, 20cm Cook's Knife, 20cm Carving Knife & 20cm Bread Knife.
---
Amefa V Sabatier 5pce Knife Block Set
Sabatier and Richardson Sheffield - two great names, your guarantee of a truly premium knife. In the home, these knives have become the benchmark for anyone who takes their cooking seriously and understands the importance of using the right tools. For proffessional chefs who expect the highest standards in reliability, precision and performance, the V Sabatier knives simply deliver. This set includes;...
Judge Scissors 3 Pce Block Set
This set from Judge contains 3 scissors for a range of household cutting needs. The blades have been crafted using stainless steel for long lasting sharpness and the soft grip handles are ergonomically shaped. The scissors comes in a stylish presentation block that is perfect for setting on your kitchen counter. The scissors are 6cm, 8cm & 10cm.