---
Fine Bedding Breathe Pillow Protector
Complete the family with our Breathe pillow protector, perfect for those who love to sleep in climate-controlled comfort. This luxurious protector contains our moisture wicking technology Modal, guaranteeing you a more comfortable night's sleep. It is covered with a soft quilted pattern, providing you with endless comfort. Able to fit a standard size pillow to give you ease of mind, it is also washable...
Fine Bedding Classic Cotton Pillow Protector
These practical cotton pillow protectors are a great way to ensure a good night's sleep. This pair of classic cotton pillow protectors are made from the purest of cotton that creates the most breathable sleeping experience yet. It also helps you protect your pillows against damage, spillages and stains. Practical and non-allergenic; these pillow protectors are the best choice for your bedroom.
---
Fine Bedding Spundown Pillow Protector
Spundown washable pillow protectors are ideal for those looking to add a practical, protective layer to their pillow. Washable at a dust mite busting 60°C, it is a great option for allergy sufferers and is encased in a peach soft cover for an added soft touch finish.
Goose Feather and Down Pillow
Luxurious, medium-support all natural feather and down pillow A long-lasting investment in wonderful sleep, night after night Filling is 85% goose feather, 15% goose down Goose feather offers a plump cushiony feel Soft goose down adds extra support 100% cotton cover
---
Joules Botanical Bee Bedding Antique Gold
A bedding collection isn't quite complete until a cushion finishes off the look and this fully embroidered one will do exactly that. It's been designed to complement our Bee bedding and features a beautiful embroidered bee in antique gold, navy and grey on a chalk white background. A great way to brighten up the bedroom!
Fine Bedding Pefect Pillow Pair
A pair of plump pillows, firm and square edged on the bottom to support, with a softer standard style on the top to cushion and soothe you in to the perfect sleep.
---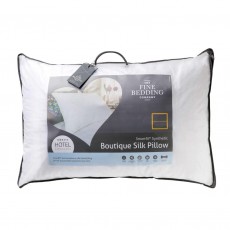 Fine Bedding Boutique Silk Pillow
Turn your bedroom into a boutique hotel with our beautifully rich silk blend pillows. These premium pillows are packed full of advanced Smartfil® fibres which are blended with the finest silk for the ultimate natural indulgence. Encasing all of that technology is a soft-to-the-touch cotton blend cover featuring a beautiful jacquard design, which adds extra breathability to your silk pillow.