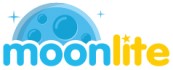 Moonlite
Not much has changed since the days of Moonlite's first storybook. There has been a shift to digital in the recent years, with more tablet based story books for children. But these digital books can sometimes leave very little to our children's imagination and can be overstimulating for bedtime reading. Moonlite was designed to bridge the gap between traditional and digital books and foster a magical, immersive storytelling experience that fuels your child's imagination.
---
Moonlite Gift Pack Fairy Tales
1 Moonlite Projector and 5 Moonlite Story Reels consisting of classic fairy tales (Little Red Riding Hood, Jack and the Beanstalk, Goldilocks and the Three Bears, The Ugly Duckling and Sago Mini on Vacation). Moonlite turns storytime into a magical experience by projecting big, bright storybook images onto the ceiling or wall, straight from your mobile device. Introduce your child to classics...
Moonlite Gift Pack Mr Men
Your child's favourite tales come alive with Moonlight, an easy-to-use storybook projector! This small device clips onto your smartphone (not included) and uses its flashlight to project vibrant storybook images onto any surface!
---
Moonlite Little Miss Sunshine
Little Miss Sunshine works with Moonlite's storybook projector (sold separately). Insert the story reel into the Moonlite projector, clip the projector onto your smartphone (not included) and project beautiful and vibrant storybook illustrations onto any surface! Snuggle in with your child and enjoy beautiful and vibrant illustrations, along with in-app story text and sound effects!