---
Smidge 20cm Plate
The Smidge plate is made from 100% natural materials without the use of plastic and any artificial bonding agents. The plate is 100% bio-degradeable so can be fully recycled. It is suitable for heating contents in the microwave and can also be used in the oven up to 120°C as well as Dishwasher Safe for easy and convenient cleaning.
---
Catherine Lansfield Side Plate Sequin Gold
This 19cm side plate designed by Catherine Lansfield and produced by PS Portmeirion Studio comes as a set of 4. It is made of porcelain with an easy clean non-stick glazed surface and is dishwasher safe, microwave safe and oven safe to 170°C.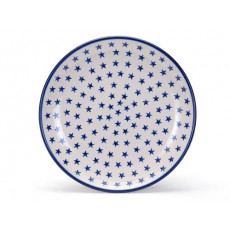 Country Pottery Plate Morning Star 25cm
This range of Polish Pottery is made in the oldest, most established pottery factory in Boleslawiec, Poland. Stoneware is non-toxic and highly durable. Resistant to abrasives and suitable for use in the microwave. Dishwasher safe. The range is hand crafted, sponged using high quality paints, glazed twice and fired twice at temperatures in excess of 1250 °C.