---
Royal Scot Skye Tall Tumblers Set 2
Skye is an elegant hand cut wine suite with a modern twist but timeless style. Beautifully boxed in luxury charcoal grey and black satin lined presentation boxes. A beautiful box of 2 tall tumblers adding elegance and sophistication to any dinner table. The Royal Scot Crystal Skye Tall Tumbler is perfect for long drinks, such as water, fruit juice, soft drinks, spirits with mixers and ice. 156mm,...
---
Just Slate Set2 Stag Engraved Beer Glasses
A set of 2 contemporary craft beer glasses each featuring a striking print of a stag. These stemmed glasses come gift boxed making them a very tasteful gift for any craft beer drinker.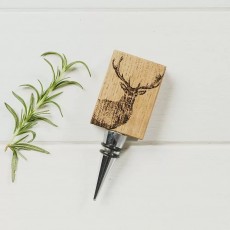 Scottish Made Oak Bottle Stopper-Monarch Stag
A handy bottle stopper set into a block of Scottish oak with a beautiful monarch stag engraving Each stopper is lovingly hand tied with sweet Scottish Made ribbon and a swing tag, making this bottle opener a lovely little gift.
---