---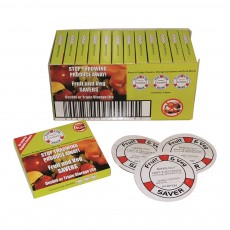 Fruit & Veg Saver Pack 3
Ingenious discs that absorb Ethylene gas dramatically slowing the rate at which produce goes off. Safe, non-toxic and fully recyclable. Pack of 3 discs.
Set Of 3 Astd Size Wraps
The best-selling assorted three-packs - provide a versatile introduction to Bee's Wrap®. Each pack comes with a small, medium and large wrap, allowing customers to experiment with our wraps and determine which sizes work best in their own kitchens. Bee's Wrap® is made with organic cotton, sustainably harvested beeswax, organic jojoba oil and tree resin. All wraps are fully biodegradable and compostable....
---
Shaped Bag Saver Dog
Keep all your plastic bags in one convenient place. Measures 24.9 cm x 45.7 cm.