Ken Hom
---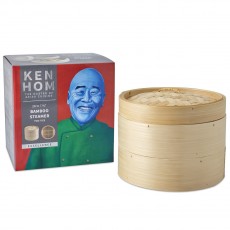 Ken Hom 20cm Bamboo Steamer 2 Tier Excellence
A traditional steamer made from natural bamboo that is ideal for cooking a wide array of ingredients in one of the healthiest ways possible as no oil or additional liquids are required. The two tiered design allows you to cook multiple ingredients at the same time all in the same wok. Easy to Use Simply fill a wok with boiling water until it almost reaches the level of the lower shelf, place the...
Ken Hom 32cm Carbon Steel Wok Excellence
This Ken Hom Classic 32cm Carbon Steel Wok develops its own non-stick surface from the build up of carbon deposits on the frying surface. Suitable for use on all hobs apart from induction, preferably use on a gas stove or wok burner. Made from 1.4mm gauge carbon steel, this wok can be hand washed. No need to use a detergent as this will remove the natural seasoning. The wok will darken with use,...