Kitchen Craft
---
Amco Peeler Stainless Steel Black
Zip through potato peeling with the Amco Houseworks Stainless Steel Potato Peeler. Its razor sharp peeling blade makes really quick work of removing stubborn skins from fruits and vegetables. The blade's fixed position means you peel in any direction, with either hand too. It's manufactured from tough stainless steel, which means you can depend on it for daily use in your kitchen. And with its non-slip...
---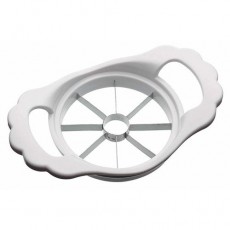 Kitchencraft Apple Corer & Wedger
Create apple wedges in seconds with this simple push action wedger. Featuring durable stainless steel blades and wide angled handles for easy use, the apple core is also removed at the same time, leaving ready to eat wedges. 11cm
Kitchencraft Digital Thermometer/Timer White
Multi purpose probe thermometer and timer to check that food and liquid are properly cooked or chilled. Simply insert the probe and an alarm will sound when the required temperature has been reached. Measures temperatures from -50°C to 300°C. Also features an individual 99 hour countdown alarm timer function when cooking according to time, and a clear, easy to read LCD display.
---
Kitchencraft Flat Sided Skewers 20cm
KitchenCraft Pack of Six 20cm Flat Sided Skewers are reusable metal cooking skewers ideal for cooking a variety of different types of kebabs and party food.
Kitchencraft Gravy/Fat separator 500ml
Kitchen Craft graduated gravy jug designed to pour from the bottom to separate fat and food from gravy and sauces, lowering fat, oil and cholesterol intake. The transparent jug has clearly marked measuring scales and the integrated straining lid to filter food from the gravy can be removed for use as a individual measuring jug.
---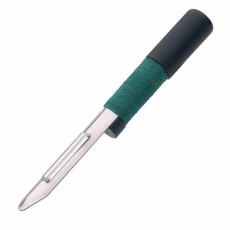 Kitchencraft Lancashire Vegetable Peeler
Peel a variety of different fruit and vegetables with this traditional vegetable peeler. With a durable stainless steel fixed blade, and string wrapped handle grip, this peeler is suitable for left or right handed use.
Kitchencraft Pie Funnel Cream
Stoneware pie funnel allows steam to escape whilst the pie is baking, keeping pie crusts crisp and avoiding soggy pastry. The funnel also prevents pies from bubbling over. Simply place in the centre of the pie and allow the top of the funnel to peak through the pastry.