---
---
PVC Apron Foraging Fox
A bright quirky design taking inspiration from traditional folk fairy tales. The duck egg shell background is the colour of the season and orange of the fox add a warmness to the design. For perfect fit, this apron has an adjustable button neck strap and waist tie whilst also being little maintenance, simply wipe with a damp cloth. Perfect for baking and cooking.
---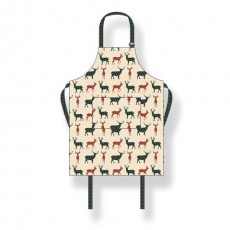 Tartan Terrier Cotton Apron
This lovely dark blue cotton apron has pocket that the front with 3 white scotty dogs, adjustable waist and neckties and trimmed with tartan.
---
Childs PVC Apron Dotty Sheep
Add a splash of fun to cooking with this bright sheep apron. A perfect gift, particularly for young cooks who have a tendency to make a bit of a mess in the kitchen. This apron has a front pocket and a co ordinating trim highlighting the colours throughout the main pattern. Made from 100% cotton, with a PVC coating, this apron is very little maintenance; just a quick wipe with a damp cloth and it's...
---
Cotton Apron Dotty Sheep
A beautifully quirky Dotty Sheep design that is sure to add character to your kitchen. Fun and playful sheep illustrations on a mustard background, this apron will have you looking beautifully stylish in the kitchen and keep you looking great when it comes to greet your guests. Made from 100% cotton with adjustable neck straps and waist ties.
Cotton Apron Sailor Stripe
This striking blue and white striped apron is a great addition to any kitchen. It is very practical as it is 100% cotton and a front pocket. This would be great for any keen cooks or bakers.
---
Cotton Drill Apron Cats in Waiting
A new twist on Ulster Weavers oldest and most popular design, Cats In Waiting continues to delight cat lovers all around the world. This design illustrates a vast variety of cats waiting with an orange polka dot contrast. This stylish apron comes with a front pocket, an adjustable neck strap and wrap around the waist ties.
---
PVC Apron Rooster
A design created by our own design team, the Rooster range PVC apron illustrates brightly coloured roosters on a cream base colour. The apron is exceptionally practical and requires very little maintenance; just simply wipe with a damp cloth. For extra design detail, a contrasting dark navy neck strap and ties have been added, to match the navy in the design.