---
Loft Lets Party Bag & Bottle Opener Gift Set
Say congratulations to a loved one with this cool looking gift set comprising of a 'Celebrate' hessian bottle bag and 'Cheers' metal corkscrew. Bag dimensions approx. L x 32cm W x 12.cm
---
Loft Thank You Bag & Bottle Opener Gift Set
Say thank you to a loved one with this cool looking gift set comprising of a 'Thank You' hessian bottle bag and 'Cheers' metal corkscrew. Bag dimensions approx. L x 32cm W x 12.cm
Glitz Brandy Glass Pair
A new brandy glass embellished with Crystals from Swarovski ® that is perfect for that special occasion. Sit back and enjoy!
---
Glitz Footed Bowl
This elegant crystal glass bowl embellished with Crystals from Swarovski ® is extremely versatile. This Bowl will make a great centerpiece to any table. 
Glitz Wine Pair
A real touch of glamour with every sip. These lovely crystal wine glasses are embellished with Crystals from Swarovski ® and are suitable for any still wine: red, white or rose.
---
Flower of Scotland Votive Bowl 11.5cm
Hand cut in the UK with an intaglio thistle design, representing Scotland's proud and historic heritage. This beautiful Royal Scot Crystal Flower of Scotland Votive/Bowl is suitable to be used as a bowl or with a candle as a votive - an ideal Scottish gift for any occasion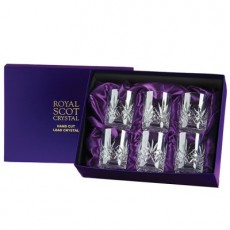 Royal Scot Highland Whisky Tumbler Set 6
The traditional hand cut diamonds and fan design embodies the spirit of the glassmaker. This distinguished wine suite was inspired by the Highlands of Scotland. The Royal Scot Crystal Highland Whisky tumbler is perfect for drinking whiskey neat, with ice or with water or as a small crystal water/ fruit juice tumbler. If you prefer a larger measure or spirits with mixers then the Royal Scot Crystal...
---
Small Glass, Medium Glass, Mums Glass Wine Glass
A super novelty wine glass with mums in mind, Mum desrves a slightly larger helping of wine than others in the household. She works hard behind the scenes to keep things running like clockwork, and most of the bits she does goes un-noticed! No wonder at the end of the day she's exhausted! Help mum to wind down and relax by giving her her own special glass of wine. There is a small and medium mark if...